Teamwork
Winner of Inaugural Joan Burge Innovation Award
Emmre Advisory Board Member Kristie Webber won the Inaugural Joan Burge Innovation Award for her instrumental work on Emmre.
---
2022 Will Be A Big Year
I can't believe it's 2022! Although, I'm not sure there's been a year that I didn't say that through at least the first half of January. This year will be especially exciting. My oldest is going to college. My twin daughters are getting their driver's licenses. My second set of twins are finishing their last year before high school, and Emmre is launching! All of these milestones will in one way or another be a culmination of a lot of time, effort, and support.
As we have been preparing to launch Emmre in a couple of weeks, I've had the opportunity to reflect on the support and encouragement I have had along the way. In this post, I wanted to thank someone who had a big impact on Emmre a few years ago.
Joan Burge Innovation Award
In September 2019 (before the time of face masks!), I had been working with Kristie for several months to develop a prototype for a software application to help maximize our partnership. I was getting a lot of value from our prototype, but I wasn't sure if anyone else would. Kristie had asked me several months earlier if she could attend the Joan Burge Conference for Administrative Professionals in Vegas. After looking over the conference information, I had readily agreed.
On one particular day, she told me about the Joan Burge Innovation Award and that she wanted to submit her work on Emmre for consideration for the award. At the time, I thought, "What could we lose?" I didn't think I would hear anything else about it, but three weeks later, Kristie came into my office and excitedly told me she had been chosen as a finalist for the award and had been asked to present at the conference.
Winning The First Joan Burge Innovation Award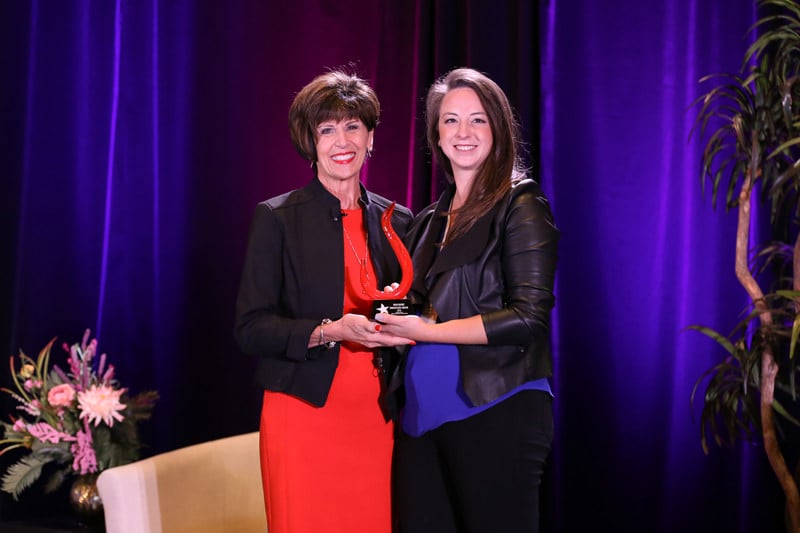 Over the next few weeks, I watched as Kristie put together and practiced her presentation. As she headed out to the conference, I was very proud of what she had accomplished and was excited to hear what the results would be. While she was there, I got updates from Kristie on how much she was learning and what a great experience it was. Finally, it was time for everyone to present, and a few minutes later, the winner was announced. Kristie was awarded the first-ever Joan Burge Innovation award! I remember her calling me with the news. I was excited for her and Emmre. Winning this award helped confirm that Emmre could be a tool that could help the EA community.
Thank you, Joan Burge!
When Joan presented Kristie with the award, she expressed her excitement for Emmre and said,
"Emmre is going to help impact the lives of many executives and assistants." - Joan Burge
Those words were very meaningful to both Kristie and me. Joan has done so much for the assistant community over the years. She is very well respected and has trained so many outstanding assistants (including Kristie), so to have her say those words was a boost to our confidence. I'm not sure if Emmre would be where it is today without Joan's endorsement of what we were doing. It came at a very pivotal time for us, and I'll be forever grateful to Kristie for taking the initiative to apply for the award and for working so hard to present our vision well.
I am also incredibly grateful to Joan for establishing the award to encourage innovation within the industry and for choosing Kristie as their first award winner. If you ever read this blog I just want to say…
"Thank you, Joan! You've had a huge impact on our industry and Emmre specifically." - Don Harms
Kristie's Comments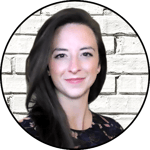 The Office Dynamics Conference in 2019 was the first Executive Assistant-specific conference I attended. I was so thankful that Don supported investing in my professional development, and I was excited to learn from the presenters and network with other EAs.

The morning of the presentation, I found an empty bathroom somewhere in the hotel and did some final runs of my speech in front of the mirror to ensure I was comfortable. That year, 300+ administrative professionals were at the conference. Now I don't mind public speaking, but 300+ people is an intimidating crowd!

Because the Innovation Award presentation was a few days into the conference, I had met some other conference attendees by the time I presented. I looked out into the crowd and saw familiar, encouraging faces as I spoke. It was inspiring to be in a room full of administrative professionals eager to learn how to be stellar in their roles. I believed in Emmre, so that also helped my confidence. Emmre had force-multiplied my working relationship with Don, and I knew it could do the same for other Exec-EA teams.

I was ecstatic when Joan announced me as the inaugural Joan Burge Innovation Award winner and couldn't wait to share the news with Don! It was an honor to present and be on the same stage with other EA-innovators. Presenting Emmre gave me many opportunities for conversations with other EAs, both at the conference and afterward.

I am so thankful to Joan Burge for providing space to highlight the innovations of Executive Assistants through the Joan Burge Innovation Award. Emmre is part of that legacy. As Emmre officially launches sometime in the next few weeks, I'm excited to see it benefit many other EA-executive partnerships the way it did ours!
---

Emmre is executive assistant software created by an executive and assistant for executives and assistants. Emmre's mission is to help supercharge productivity and maximize the strategic partnership between executives and executive assistants.