Communication
Asking Questions Your Executive Will Answer
3 practical tips to help you get better, more timely answers from your executive.
---
Have you ever asked a question like…
"Do you want the meeting to be 1 hour or 2 hours long?"
Just to get the response…
"Yes."

One thing that I consistently hear from executive assistants is how often they struggle to get their executives to answer their questions. Often, even if they do get an answer, the answers are incomplete or not received in a timely manner. This sort of scenario creates roadblocks, and it can leave executive assistants feeling irritated and disrespected.

While there may be executives out there that will intentionally ignore their EAs and their questions, I believe that those executives make up a small minority. Most executives truly desire to be helpful and desire to answer questions well.

So what can you do to create the best opportunity for your questions to get answered completely and in a timely manner?


Tip #1: Eliminate "thought requirement" as much as possible.
When asking your executive a question, try to keep it as direct and simple as possible. Ideally, most of your questions should be asked in a "yes/no" format, but on some occasions, a multiple-choice format may be more helpful. Open-ended questions, however, almost always lead to more questions and delayed responses. Consider this scenario…
Suppose you ask your executive a question like…
"Where would you like to meet Bob for lunch next week?"
If your executive is anything like me, their mind is immediately flooded with more questions…
"Where does Bob like to eat?"
"Does Bob have any allergies that I should be aware of?"
"What locations are closest and most convenient to Bob?"
Suddenly, a "simple" question about lunch requires a lot more of your executive's time and energy to answer, and they are more likely to put off doing so until later.
Instead, try asking the same question differently…
"Next week you have a lunch meeting with Bob, and I've already confirmed that the following choices work for him. Would you like to go to Chili's, Cheddar's, or Rocky Mountain Brewery?"
Doing some additional "leg-work" and clearly communicating this information to your executive allows them to give you a quick and complete answer. Taking the initiative to equip your executive with as much information as possible and phrasing your question in a multiple-choice or a yes/no format will provide the best opportunity for you to receive the quick and complete response that you are looking for.
Tip #2: Ask only one question at a time.
Another thing to consider when asking your executive a question is to make sure you only ask one question at a time. Asking two or more questions at once can be extremely confusing for both of you. An example of this could look like the following:
"What time do you want me to schedule the meeting tomorrow? How many will be attending? Would you like lunch during your meeting? If so, what would you like for lunch?"
Groups of questions like this can stall an executive who is more than likely trying to answer your questions amidst all the other demands of the day. Their workdays are often filled with numerous other questions and clumping your questions together can cause them to delay answering until they can sort through the various answers they need to give you. Or, worse yet, they respond "3."
Never ask open-ended questions followed by very specific questions. This can cause both you and your executive a lot of confusion. Even if your executive answers your questions, it may be unclear which answer goes to which question.
Instead, whenever possible, ask one question at a time. After you have received a complete answer, move on to whatever question is next on the agenda. This way, you can avoid confusing or stalling your executive, and you are much more likely to get the answers you need on time. If you have to ask multiple questions, separate them and give choices whenever possible.
"What time do you want me to schedule the meeting tomorrow?
You have openings at 11 am, 1 pm, and 3 pm."
How many will be attending?
The entire LT (5), 4, 3 or 2
Would you like lunch during your meeting?
Yes/No
If so, what would you like for lunch?"
Thai Mint, Chipotle, Ivy's, or Torchy's
Tip #3: Prioritize your questions.
Learning how to correctly prioritize the questions that you ask your executive is essential to your working relationship. Recognize which questions need to be asked now and which ones can be asked later, and consolidate them when you can. If you are messaging these questions to your executive, send them in the order of importance with the most important being sent first. That way, your executive can prioritize answering the questions that are most crucial to you.
If you have questions that you are mainly asking for learning purposes, mention that to your executive in your communication with them. You could say something like, "I was curious about this for learning purposes, but we can definitely discuss this later." This puts your question on your executive's radar and lets them know that your growth and learning are important to you. It also lets them know that they can answer or discuss your question with you at a later time and that doing so will not cause any roadblocks for you.
It's important to know that the majority of executives are not ignoring your questions or just blowing you off. In fact, they often feel bad for not being able to answer all of your questions when you ask them. In general, executives are not trying to roadblock your progress as an EA.
However, there are certainly ways that you can help your executive answer your questions sooner and more effectively! Wording your questions in a way that your executive can make quick decisions will help facilitate quick responses. Doing some additional leg-work can help eliminate the additional questions that may arise, and prioritizing your questions can help ensure that your executive starts with the most important and works through the rest from there. Regularly practicing these tips can help promote better and more timely communication between you and your executive.
---
Emmre Questions
Asking good questions (and getting answers) is an important piece of the strategic partnership between executive assistants and executives. The Emmre platform makes it incredibly simple to create and send questions that are easy for your executive to answer. Within Emmre, you can easily create "Yes/No" or Multiple Choice questions which your executive can answer immediately with a simple click – getting you answers to remove roadblocks and help you keep moving forward. (Does your executive prefer to get a list of questions once a day? We've got that covered, too – just include these Emmre questions when you send your daily Emmre summary to your executive.)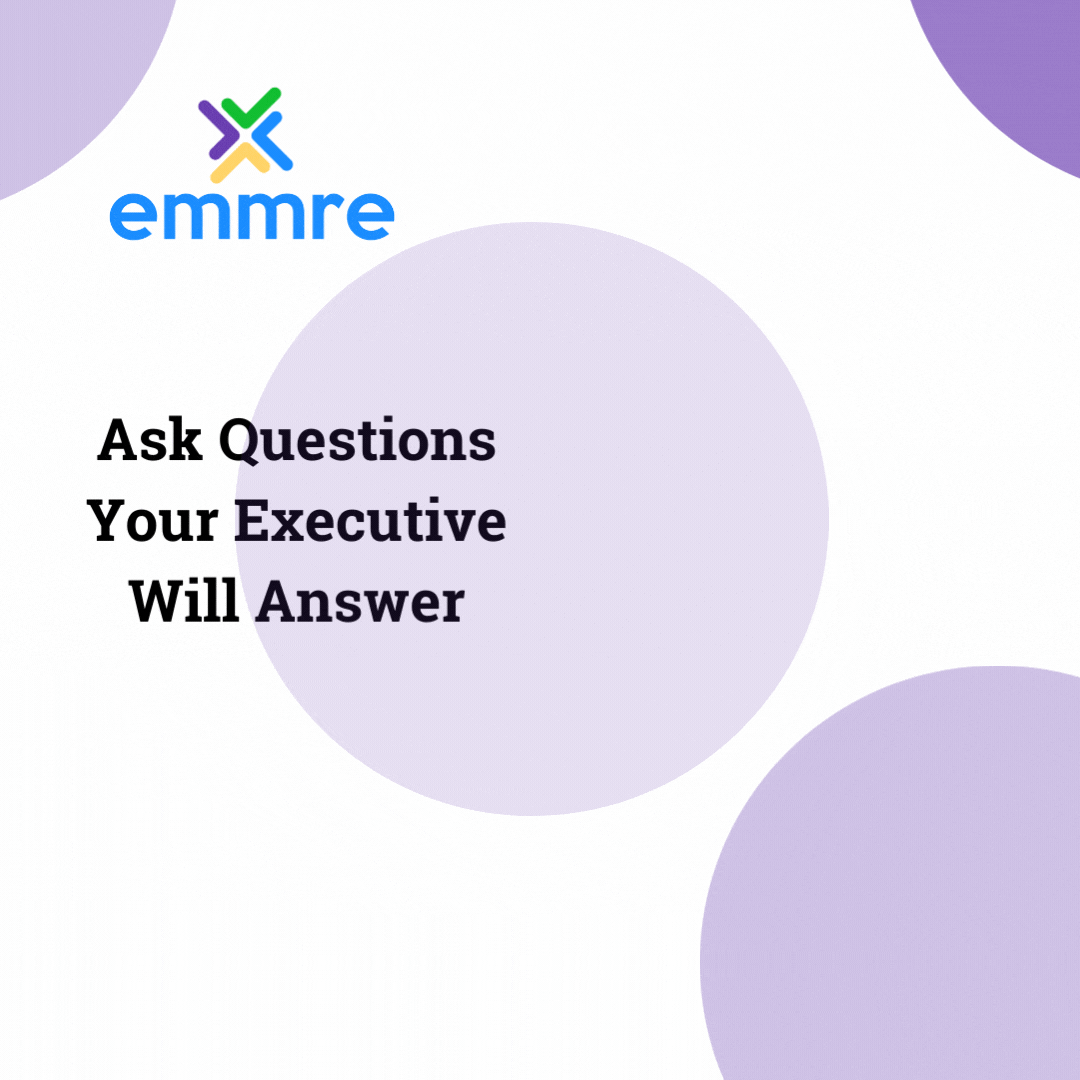 ---

Emmre is executive assistant software created by an executive and assistant for executives and assistants. Emmre's mission is to help supercharge productivity and maximize the strategic partnership between executives and executive assistants.